Family Fun - Halloween Kick-off
Halloween is one of our favorite holiday times because it's filled with traditions! This first Friday in October is a great time to start some of your own Halloween family traditions. Choose one or more of the ideas on this list and do it every year. Your family will look forward to not just the candy on Halloween, but the closeness it brings between all of you as you have fun together.
Here are a few of our favorites: 
 - Decorate the house Halloween style!   
A Halloween house will absolutely kick off the season with style and fun!  You probably already have decorations your family loves!  My kids have grown very attached to a few specific decorations. In fact, I personally am still attached to a ceramic pumpkin my mom made that was part of the decorations growing up. It's my favorite thing to get out every Halloween and always makes my heart warm and brings a smile! 
Adding paper cut out bats is a fun way to add spooky decor that's practically free! Just use painters tape to hang them and enjoy!  
- Build a Halloween Library!
I started collecting a few Halloween picture books when my kids were very small. They weren't scary stories, but fun books. Most nights in October we read one or more Halloween books at bedtime. I have fond memories of it. I tried to add a new book each year to keep it fun. Now we have a small collection and even though my kids are teenagers, I still get them out. And yes, I do even find them rereading them.  
 - Decorate Pumpkins!
I am not a huge fan of carving because it's so messy and the pumpkins rot faster, but the kids love it. Sometimes we carve, but some years we just paint on the pumpkins. Get creative with it... decorate a pumpkin like each member of your family or like a favorite character!  The time together doing it is what matters.  It's also a great way to dress up your porch!
- Buy Halloween socks!
We have always had a tradition to dress up as a family. However, last year we had lots of schedule complications and decided not to spend the money on family costumes because we wouldn't be able to attend any parties etc. Instead we decided to all get Halloween socks. Surprisingly, it was still super fun! The kids seemed to really enjoy getting to pick out a pair that fit their likes and personality and they definitely wore them more than they would have a costume.
- Make Toasted Pumpkin Seeds!
There has to be some bonus good to that mess when carving pumpkins!  Pumpkin seeds are it!  We think this last year we found the BEST recipe.  Click HERE to grab the printable recipe for FREE in our shop! 
- Plan Halloween table decor & a simple fun Halloween meal!
Meal time as a family is important time and having somewhere festive to eat in October, just really makes it more fun!  There are some fun table decor pieces like our Spider Web Chargers and Wood Bat Cut Outs/ Plate Toppers in the Shoppe to help you set up your table all month long or just for Halloween night.
Include your family in planning out accents like spiders, pumpkins, skeletons or our Halloween Bat Set or folding a fun Halloween napkin shape to use.   
After you have your Halloween table set, make your Halloween meal special.  If you are like me, Halloween night is so busy that you need to keep it simple.  Our family has made a tradition out of having the same meal every Halloween.  We typically serve Shells and Cheese with Crescent Mummy Dogs, but some years we shake it up with a crock pot of our favorite homemade chili and Spider Breadsticks.   Serve one for Halloween and one in the days before!  I also love what my friend does, arranging food in Halloween shapes.  Food is always a fun tradition. 
- Get TALKING about Halloween fun! 
Talking is one of the best ways to connect as a family.  It builds bonds as you share and laugh together.  Gather your family and our Halloween Conversation Bats or our Halloween Talking Cards in the Shoppe.  These fun conversation starters are themed for Halloween!  They are perfect for sharing around the dinner table or adding a fun touch to your family room!   We especially love the bats if you love unique items and a detailed touch.  The printable version is great for starting up some laughter on car rides! 
Get the connecting going when everyone is gathered!  Both sets have enough for one every day in October or break them up into chat sessions!  And don't worry friends, I've tested them on my teens and they even approve! 
- "Spook" Your Neighbors with a Treat
! 
I am not often the one to start this yearly tradition, but our family loves the sweet surprise when we get, "Spooked."  Maybe this year your family can get it going in your neighborhood.  Make or buy a treat.  Package it up fun.  Add a note to spread the fun along, then leave it on a neighbor's doorstep, knock and run.  Warm your heart and have an awful good time!   There are lots of printables available on the Internet if your family wants to do this one.  
Check out these cute printable boxes by Anne Maie Printables on Etsy that would be perfect for doorbell ditch treat!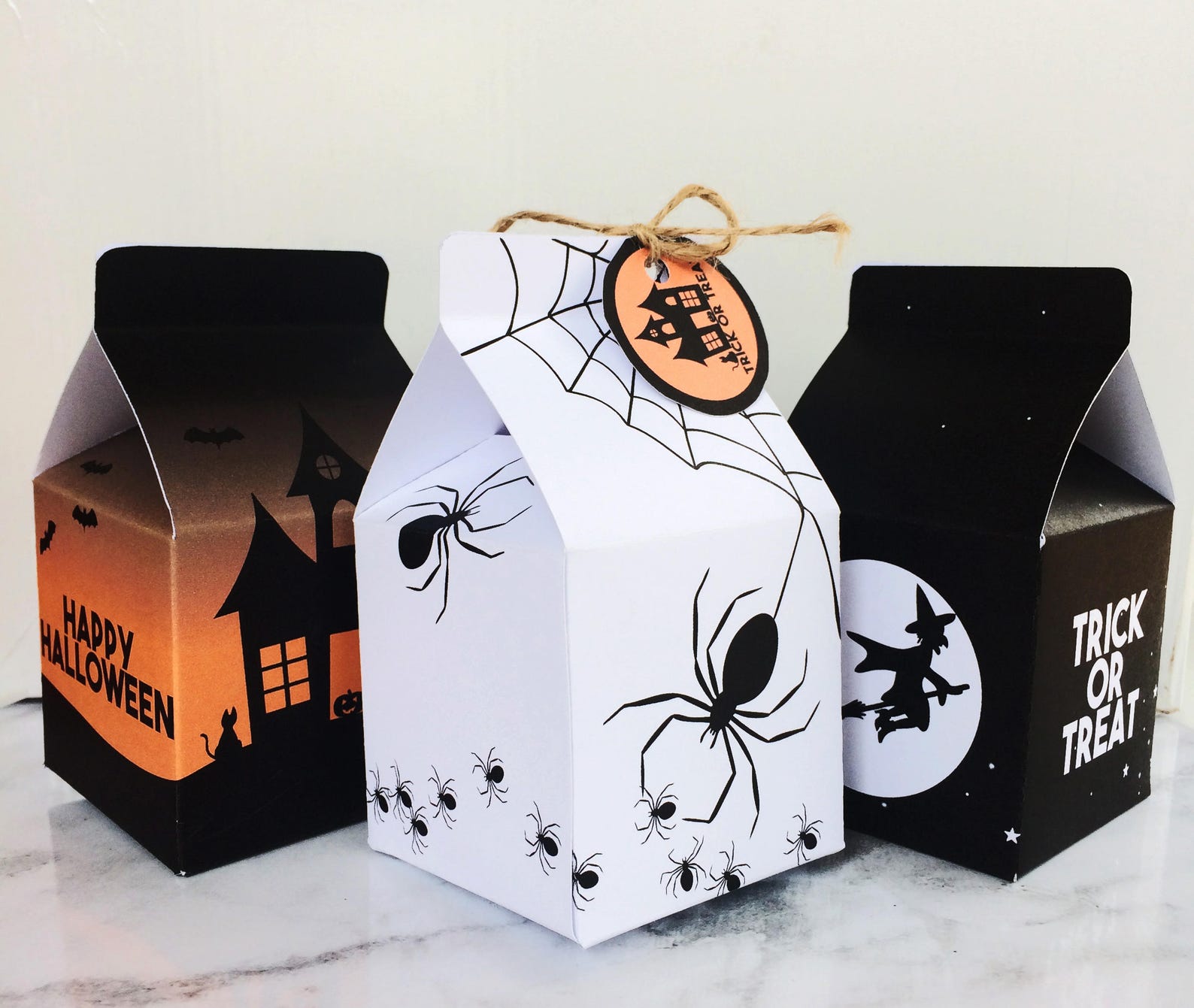 I also absolutely love these Halloween Neighborhood Boo Basket printables and ideas by coffeeandconfettimom.com.  Definitely take a look if you are thinking of starting this tradition.  
- Play a Halloween Game!
Many common games can be given a Halloween twist.  Here are 7 ideas to get you thinking!
Wrap a family member like a mummy using toilet paper or plastic wrap.

Pumpkin Face:  Family members cover their face in Vaseline.  Put cheese balls on a table.  On "go" each person has to cover their face with cheese balls without using their hands.  After one minute, the person with the most cheese balls on their face wins!

Set up empty 2 liter soda bottles like bowling pins.  Use a pumpkin (the most round one you can find) for your bowling ball and go bowling.  

Play Hide and Go Seek in the dark.   The "Seeker" gets the only flashlight

Use witches hats and rings as a ring toss.

Have a Halloween Egg Hunt.  Fill small pumpkins or Halloween painted plastic eggs with treats.  Hide outdoors or around the house.  After dark, use only a flashlight and go hunting for them.

Have a Halloween cake decorating contest!  FaceTime the grandparents or other family to judge. 
Now that's a lot of Halloween fun!  Want more?
I've come together with two of my Biz Besties to bring you even more Halloween fun!  Click HERE to grab our  SPOOKTACULAR FAMILY HALLOWEEN GUIDE!  
It includes:
Printable October Bucket List
Simple Halloween Food Ideas with How-to links! (breakfast, dinner, sides, treats and drinks all in one place!
Halloween Table Inspo with links to pieces from all three shops
20% off at all three shops!
A Surprise bonus (bonus expires on October 31st!)
Hope your October is filled with lots of Halloween family fun!
Love,
Candace (:
You might also like this post:
Are you subscribed?  Don't miss out on great decor in the Shoppe, decorating tips, subscriber exclusives and family ideas all straight to your inbox!  Click HERE  to subscribe now!